Yearly Run Totals
2019
2018
368
2017
345
2016
337
2015
311
2014
338
2013
336
2012
360
2011
376
2010
343
2009
313
2008
328
2019 Incidents
January
29
February
26
March
18
April
May
June
July
August
September
October
November
December
Total
73
Web Counters
Website Visitors
Since
May 7, 2014

Visitors Today
Mar 24, 2019

Elections Held; New Administration Takes Effect May 1
By Chief of Department Dean W. Pappas
April 5, 2018
Katonah Fire Department held its annual meeting and election Thursday night. The new administration will take over on Tuesday, May 1. The new officers are as follows:
Chief of Department: Jose Corsino
First Assistant Chief: Mike Griffiths
Second Assistant Chief: Matt Whalen
President: Gabe Palacio
Vice-President: Bill Hassett
Recording Secretary: Kathleen Roche
Treasurer: Paul Gallagher
Financial Secretary: Harry Rosenblum
Steward: Bobby Bosco
Sergeant At Arms: Davide Palmerini
Congratulations to all incoming firematic and department officers.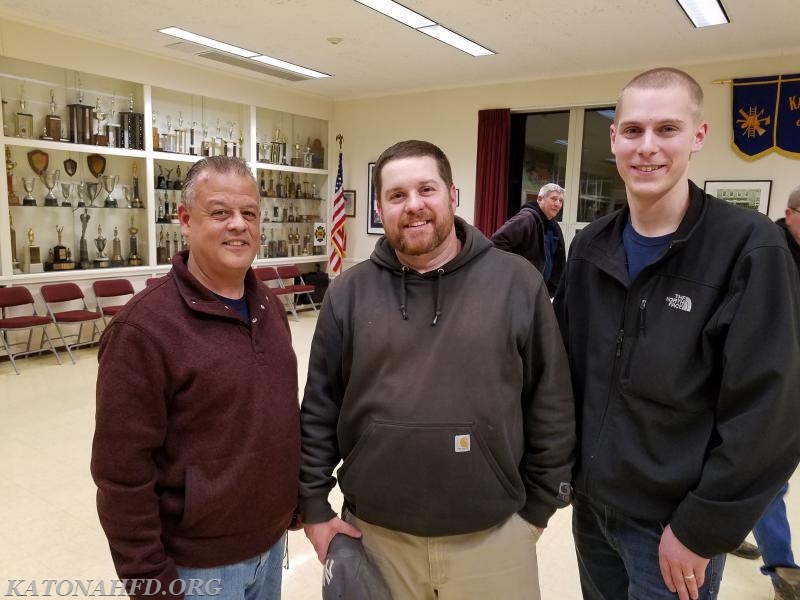 Taking office on May 1 are, from left, Chief Jose Corsino, First Assistant Chief Mike Griffiths, Second Assistant Chief Matt Whalen.